Land and Poverty Conference 2018: Land Governance in an Interconnected World
The World Bank is pleased to invite abstract submissions for the 19th Annual Conference on Land and Poverty to be held March 19 — 23, 2018 in Washington, DC, USA.
The Land and Poverty conference will present the latest research and practice on the diversity of reforms, interventions, and innovations in the land sector around the world. The 2018 conference theme will be: Land Governance in an Interconnected World
The conference has become one of the largest international events on land governance, attracting over 1,300 participants in 2017 from governments, academics, civil society, and the private sector. Please consult the  World Bank Land and Poverty Conference website  for video recordings, papers and powerpoints presented at the 2017 conference.
Conference structure
March 19: Official opening event and pre-conference session at 5 pm.
March 20—22: Parallel thematic tracks with oral paper presentations and policy round tables. Closing session on March 22 followed by a reception.
March 20—21: Poster sessions.
March 22: Â Innovation fair.
March 23: Learning day: MasterClasses and field visits.
March 19—23: Exhibition booths in Atrium (please contact conference organizers on availability and conditions).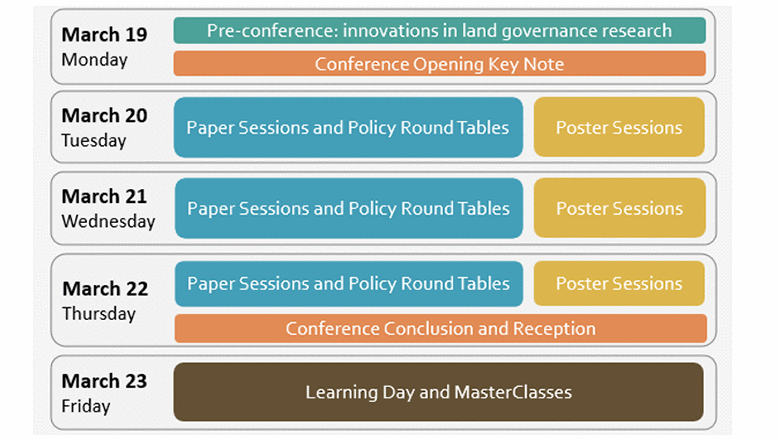 BOOK TICKET